It's another spectacular day in the cryptocurrency market, barely 24 hours after the COINBASE listing. American crypto exchange giant Coinbase went public on April 14 with a direct listing on Nasdaq. Analysts believe that Coinbase listing spurred the increased buying interest seen across the board in the cryptocurrency market in the earlier part of the week.
On April 14, many old-timer Altcoins, such as XRP, Dogecoin (DOGE), Tron (TRX), and Stellar (XLM) continued their climb from the prior week to set fresh highs while Bitcoin (BTC) climbed to a new all-time high of $64,896.With Stellar poised to increase to highs of $0.69, XRP rallied to multi-year highs of $1.96.
Notably, several Altcoins have registered new all-time highs since April 14 while most traded at fresh yearly peaks.At the time of writing, Chainlink rose to a record high of $42.96, Ethereum was climbing to new highs of $2505.Litecoin also rose to new yearly highs of $288.
With nearly all of the assets in the top 100 showing positive gains on Apr. 15, the crypto market is once again in the green.This follows after the profit-taking seen following the immense bullish action on Apr. 14.In the last 24 hours, TRON has grown 17.78%.Bitcoin Cash is surging higher to highs of $869 as of press time.
The renewed interest in decentralized finance saw major DeFi tokens such as Maker (MKR +46.30%), Compound (COMP,+ 20.31%), Synthetix (SNX +14.52%), UMA(+19.30%), Reserve Rights (RSR +19.30%), Curve DAO token (CRV +26.08%) posting impressive performances in the last 24 hours. DeFipulse gives the present total value locked in DeFi (USD ) to be $58.17 billion.
Dogecoin exploded to highs of $0.1928 on Apr. 15 after Elon Musk tweeted about DOGE once again. The Tesla CEO tweeted, "Doge Barking at the Moon" with a meme that points at higher DOGE prices.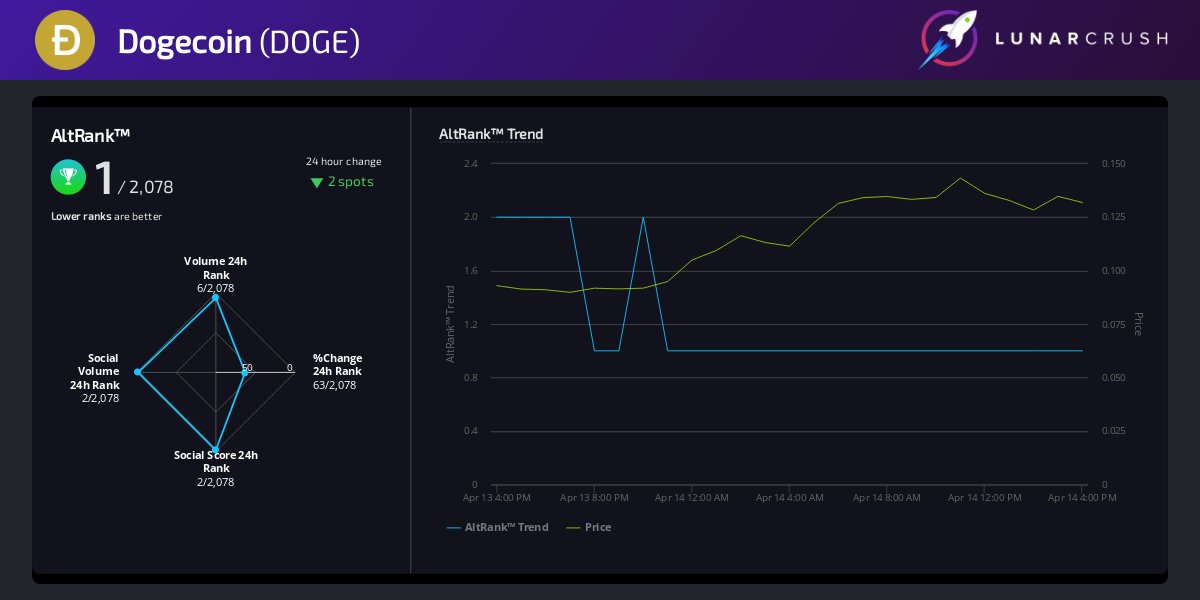 Courtesy: LunarCRUSH
According to LunarCRUSH social listening for crypto (measures how social media impacts cryptocurrencies), Dogecoin ranked 1st among the current top 10 coins by AltRank.Since the last 24 hours, DOGE has led the market in social activity and demonstrated strong market performance.It stated:
'With much strong social + market activity, The #Dogecoin has had a #1 AltRank for 20 of the last 24 hours. This is as rare as a well-behaved Shiba. Nice work $DOGE community.'
As of press time, Dogecoin was trading at $0.1807, up by 64.67% in the last 24 hours and 192.95% weekly.
Here Is Why the Next 48 Hours Matter
The cryptocurrency market has been on an impressive bull run since the week's start amid Coinbase's listing. Despite the recent profit takings seen on Bitcoin and Altcoins after the impressive bull run, some analysts believe that there is more positivity to expect as the weekend approaches. Also, the most significant rallies have taken place on Bitcoin and Altcoins during the weekend.
Rekt Capital @rektcapital tweeted on Apr. 15:
$LINK has set a new All-Time High, $RSR has set a new All-Time High, $BAND has set a new All-Time High, Welcome to the Altcoin Bull Market.
The trader also tweeted:
"Altcoins have been pumping like crazy today, but this is nothing compared to the euphoria and FOMO that has yet to come. In 2017, it took #Litecoin only 5 days to rally from $96 to $420. The euphoria stages of a bull market come at you fast, Be prepared"
Adam Cochran, partner at Cinneamhain Ventures stated in a tweet that due to the recent Coinbase listing, there will be a heavy buy-in into cryptocurrencies:
"My theory is that most of Coinbase's new millionaires will be heavily repurchasing back into crypto over the next 72 hours. While I think most CB assets will pop, there is one asset that I think will outperform over the next month from CB and that is $BAL."
Image Credit: LunarCRUSH, Shutterstock